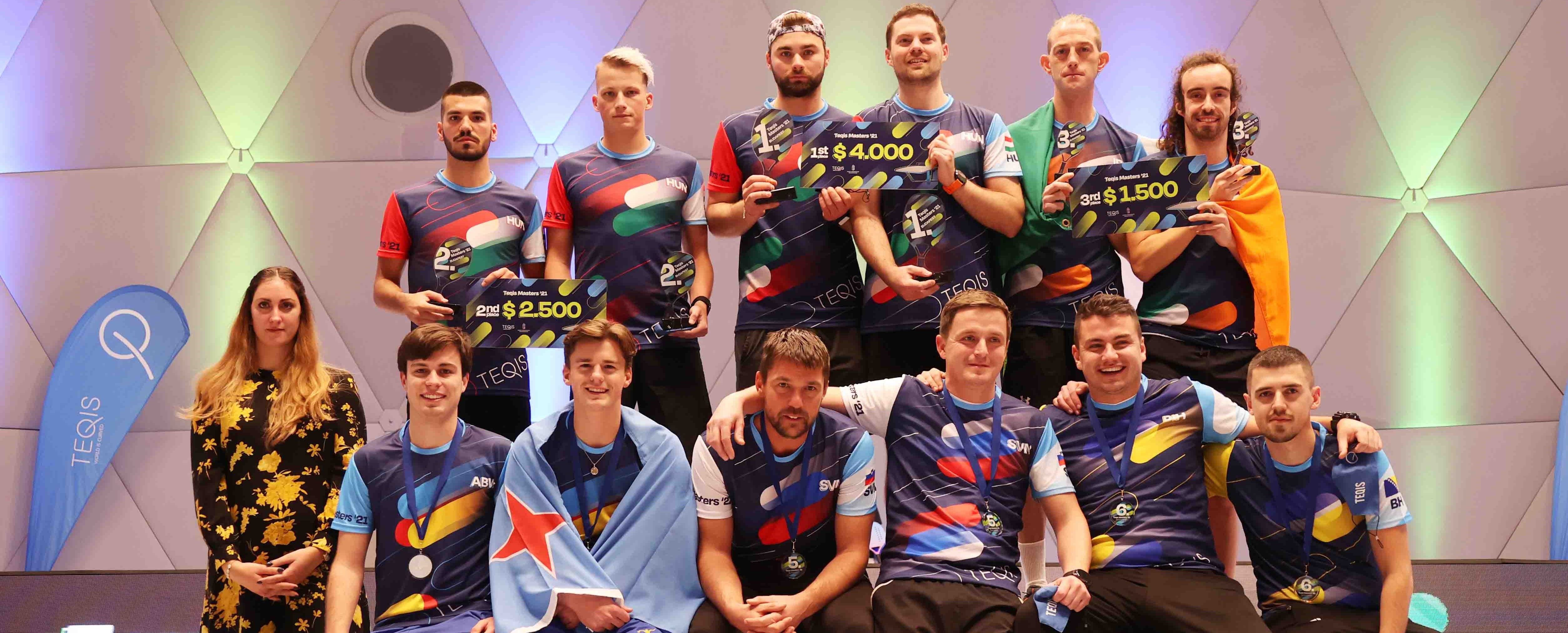 The invitational Teqis Masters '21 tournament was held on December 4th, 2021 at the Teq Arena. This prestigious event had six teams from five different countries who participated for the trophy.
The teams have arrived to Budapest from five different countries: Aruba, Bosnia and Herzegovina, Hungary, Ireland, and Slovenia.
On Saturday afternoon, Aruba and Ireland played for the bronze medal. Team Aruba had two 19 years old youngsters, Nikaj van der Meer and Shane Baaij, who both play beach tennis professionally. On the other hand, team Ireland had Benny O'Regan, who played handball and volleyball for Ireland and also competed at the Teqvoly World Championships, so he was very familiar with the Teq table. His partner was Jack Hyland, who fell in love with teqis during the pandemic. Both teams fought very hard until the last point, they played a very high-level match, but Benny O'Regan and Jack Hyland from Ireland won the match in two straight sets. (12-5, 12-8, 12-9, 12-4)
The last match of the event was the final where two Hungarian teams battled for the Teqis Masters '21 title. The two teams have been competing at every teqis tournament in Hungary, and they have played each other several times before. In the past, all of their matches were tight so, the crowd expected a spectacular match between them.
Bako and Forgacs, who won the qualification tournament for the Teqis Masters '21 started strong by winning the first game of the first set (12-11). They seemed very confident and full of energy. The Barta-Kovacs team surprisingly got into the tournament a day before the event because the Latvian team got stuck at the Riga airport due to a snowstorm, so they were very excited to participate in this prestigious masters. They poured their hearts into every point and they played without pressure which caused them to win the next two games, which meant taking the first set. (12-7, 13-11)
The Bako-Forgacs team did not give up and won the first game of the second set (12-11), but Barta and Kovacs further leveled up their game and turned around some of the most important points, which led them to win the second and the third game in the second set (12-11, 12-9). Winning both sets meant that Barta Balazs Odon and Mark Kovacs lifted up the winners' trophy at the end of the night, becoming the champions of the Teqis Masters '21. The final match did not disappoint the crowd, it was a very intense, tight, and extraordinary match with full of excitement.
Results:
1. Balazs Odon Barta & Mark Kovacs (HUN)
2. Adam Bako & Bence Forgacs (HUN)
3. Brendon O'Regan & Jack Hyland (IRL)
4. Nikaj van der Meer & Shane Baaij (ABW)
5. Anze Kapun & Rok Maticic (SVN)
6. Adni Challenger & Arsenije Batinic (BIH)
Related photos